locally grown-to-order microgreens
fill out this form and we'll send you a text to arrange payment & delivery
FREE DELIVERY ON ORDERS $20 AND UP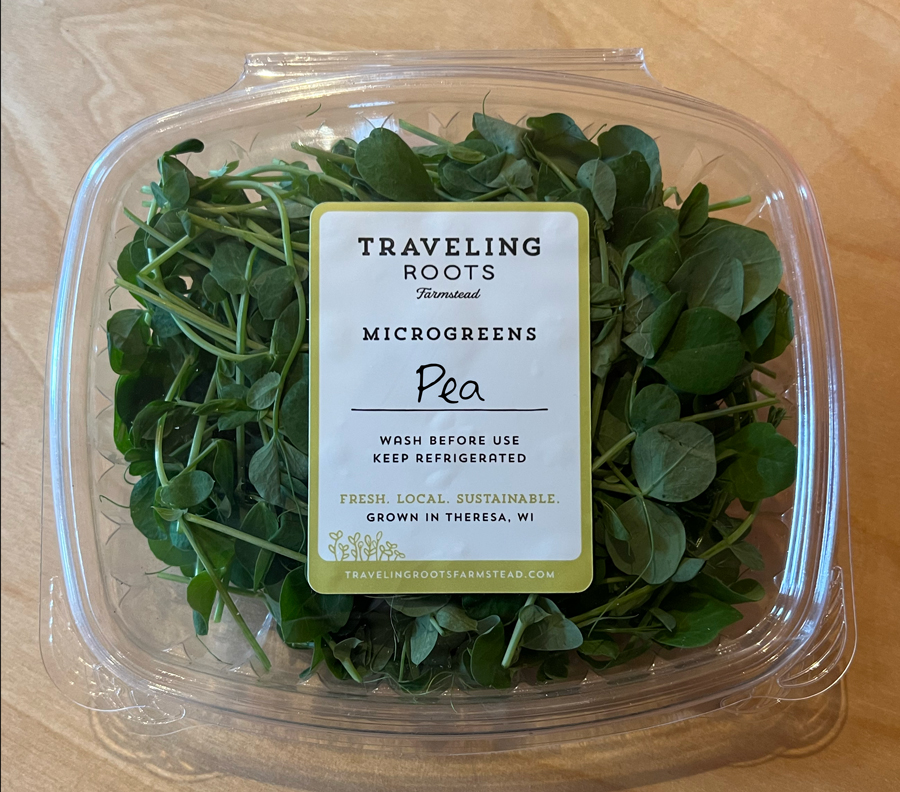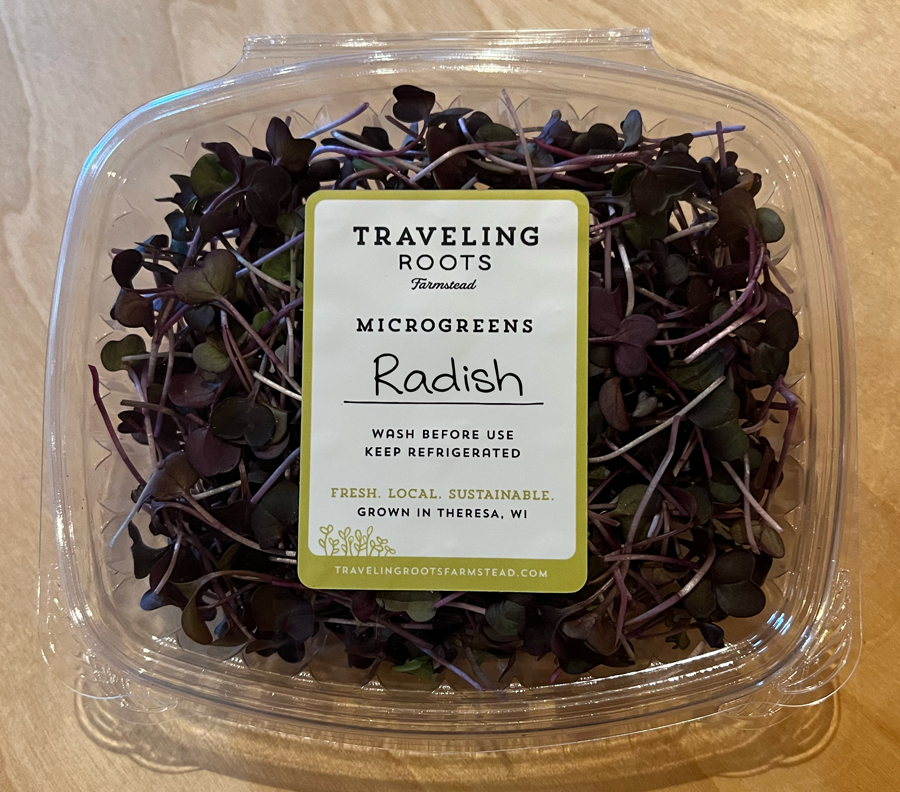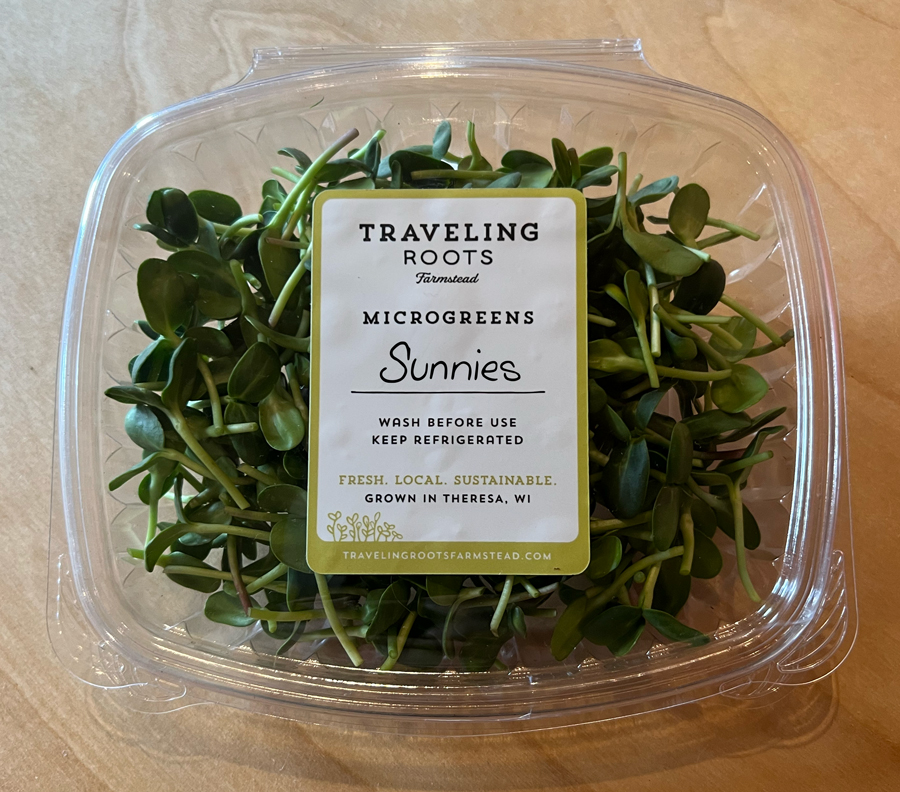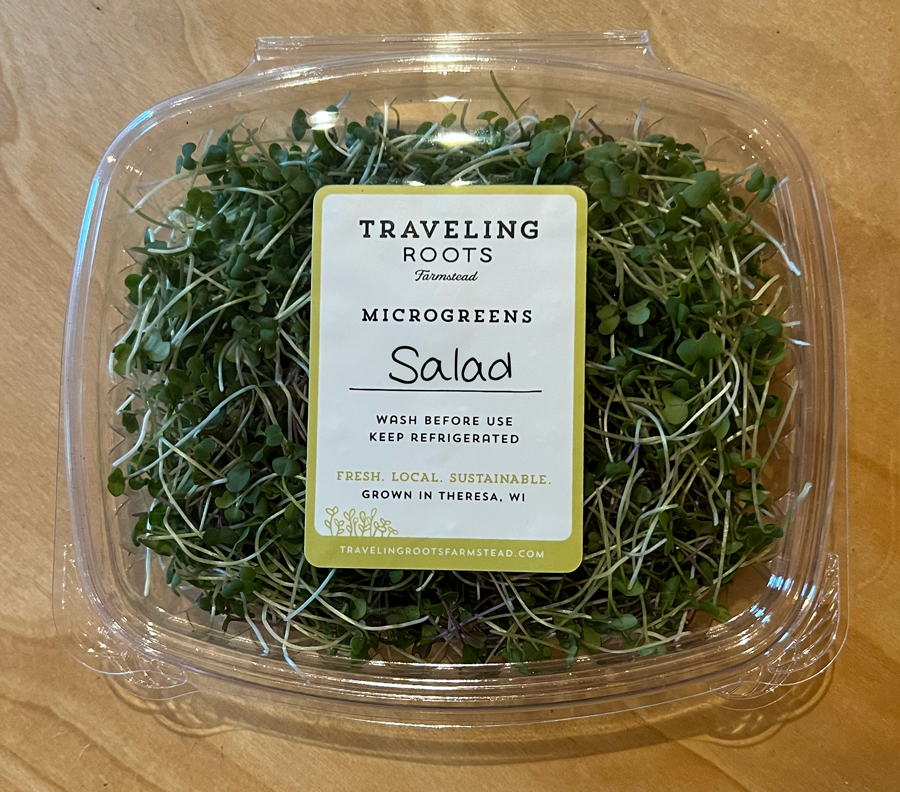 enjoy special pricing when you choose a microgreen subscription!
weekly or bi-weekly subscription
$5 per container

what happens after I submit this form?
We'll work with you to get your subscription setup exactly the way you want it!
Watch for a text from Marcia to finalize the following details.
When you can expect your microgreens
Payment
Confirm pickup or delivery

terms & conditions
Subscriptions could take up to 2 weeks to start, depending on our current inventory. We do our absolute best to fill each order, every week, after your subscription starts. If an issue does occur (major power outage, seed shortage, low yields or illness, etc.) where we can't fill your entire subscription order, you will be notified and refunded the amount of the items we were unable to fill.
Submitting this form does not start your subscription automatically. We will contact you to verify your request and setup the remaining details.
Delivery:
Free local delivery for orders starting at $20.
Orders under $20 have a $3 delivery fee.
Deliveries are done on Mondays between 1 – 4 pm. Deliveries are done using the most efficient route we can produce, meaning your delivery time may vary from week to week, depending on where your address falls in the delivery route. If you cannot be home during this time, you are required to leave a cooler outside, with ice packs and a piece of cardboard ontop of the ice packs to protect your greens from freezing. Once items are dropped off, it is your responsibility get them into the fridge as soon as possible to ensure their freshness. NOTE: If no cooler is available at pickup we will put the greens near your front door in the shadiest part. We are not responsible for greens once dropped off if cooler wasn't let out. No refund will be given. As all greens are grown to order for each specific order.
Farm Pickup:
Orders are to be picked up between 5-6 pm on Mondays, each week (or every other week if that's what you selected). If orders can't be picked up between 5-6 pm arrangements must be made 24 hours prior to that weeks pickup. If greens aren't picked up during pickup time, farm is closed and the greens will be donated to a local organization, and no refund will be given. As all greens are grown to order for each specific order.
Subscriptions are automatically paid using a credit card with which the original payment was made.
Last Updated: 2/27/2023
why local and fresh
There are many benefits to buying locally. Your microgreens are picked up or delivered within 24 hours of harvest with their nutrition and taste at their peak. We offer pickup or local delivery to get you the freshest greens that only travel a short distance from our farm to your table.
locally grown in theresa, WI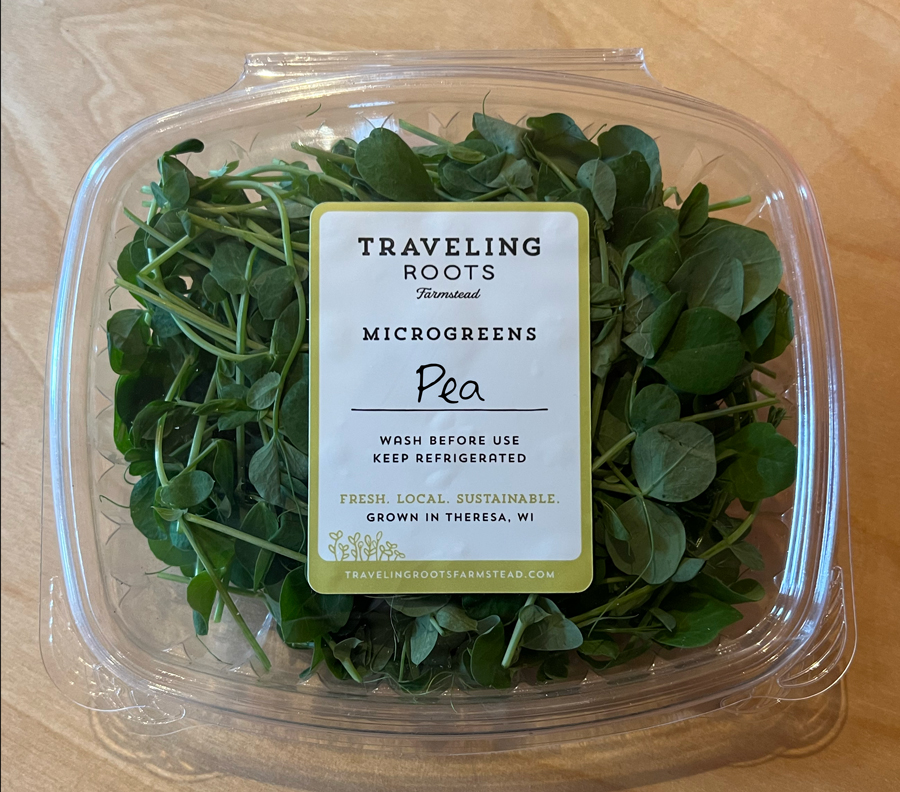 Pea 
These small tasty shoots have a crunchy and sweet green pea flavor. These are great to add to a salad, sandwich, stir-fries, soup, smoothies, or as a flavorful garnish to any dish. Peas are a good source of vitamin C and folic acid.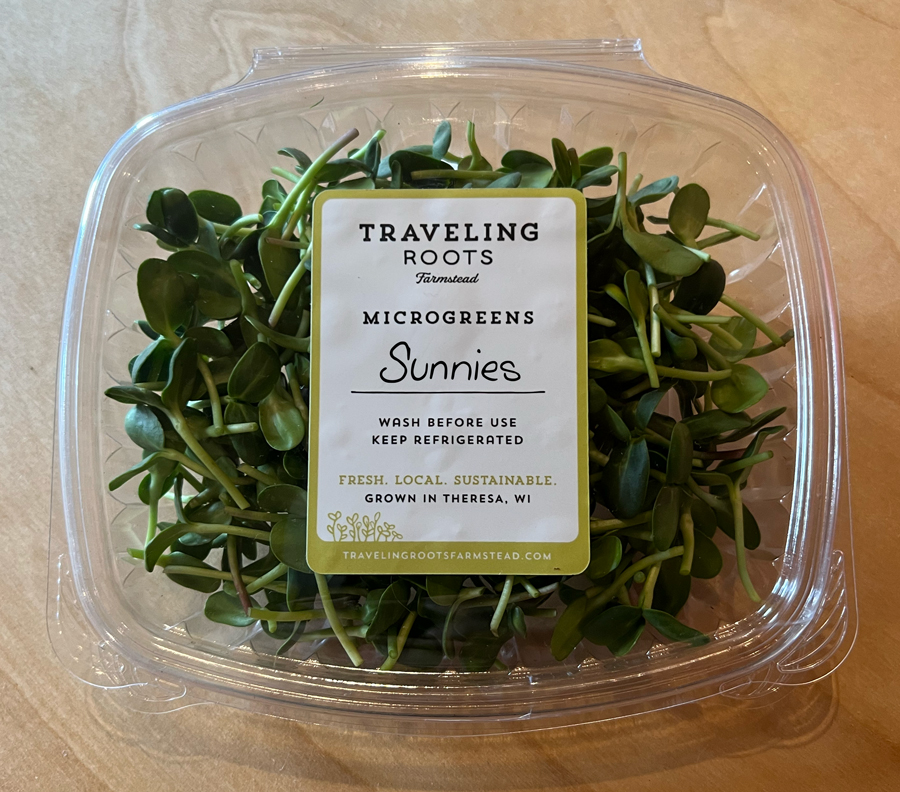 Sunnies
These have a crunchy, nutty flavor that is a tasty snack or can be added to a salad, sandwich, or smoothie. Remove the black hulls before eating. Sunnies are a good source of iron, vitamin e, potassium, and calcium.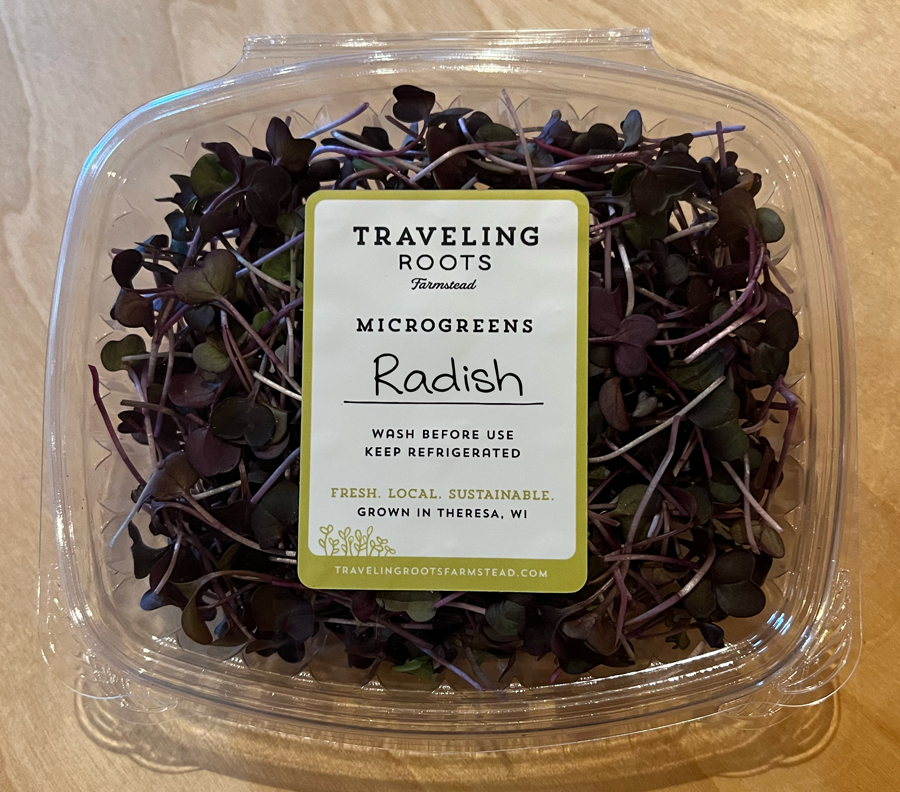 Radish
These have a spicy, floral, and sharp flavor that offers an amazing colorful highlight to any microgreen salad or dish. Use it instead of radish anywhere you would normally use radish. Radishes are a good source of vitamins a, b, c, e, k, calcium, iron, magnesium, potassium, zinc, and essential amino acids.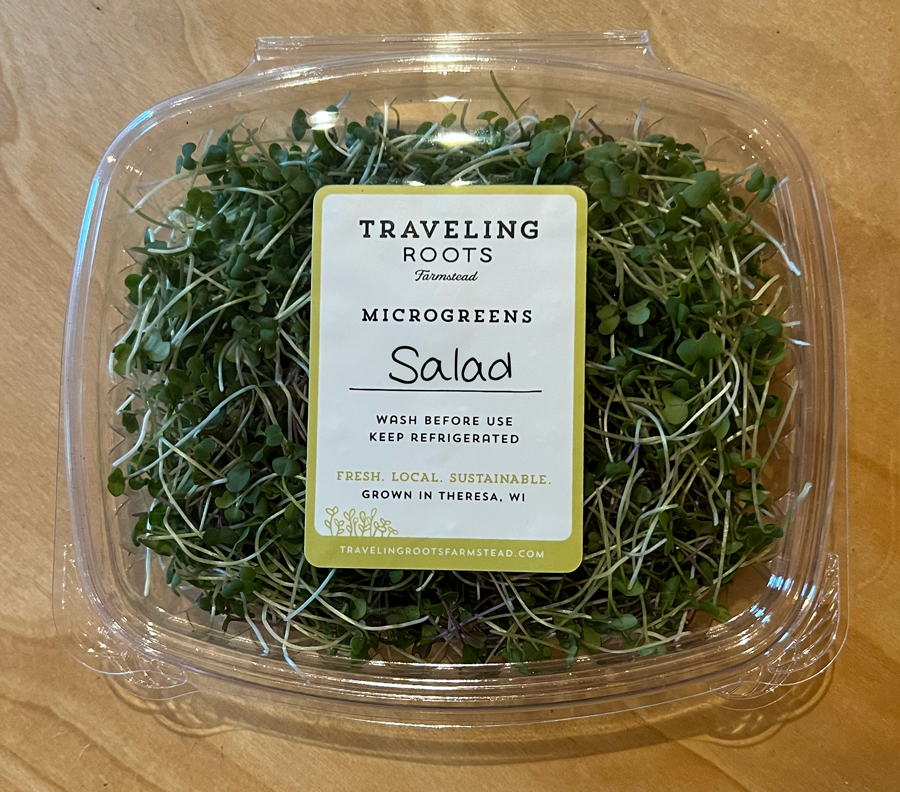 Micro Salad Mix
This mix is a flavorful and colorful combination, including broccoli, kale, kohlrabi, arugula, and red cabbage. This micro mix makes a delicious crunchy fresh microgreen salad full of flavor or toppings on a sandwich or burger. This green mix is packed with nutrients vitamins k, e, c, calcium, iron, and beta-carotene.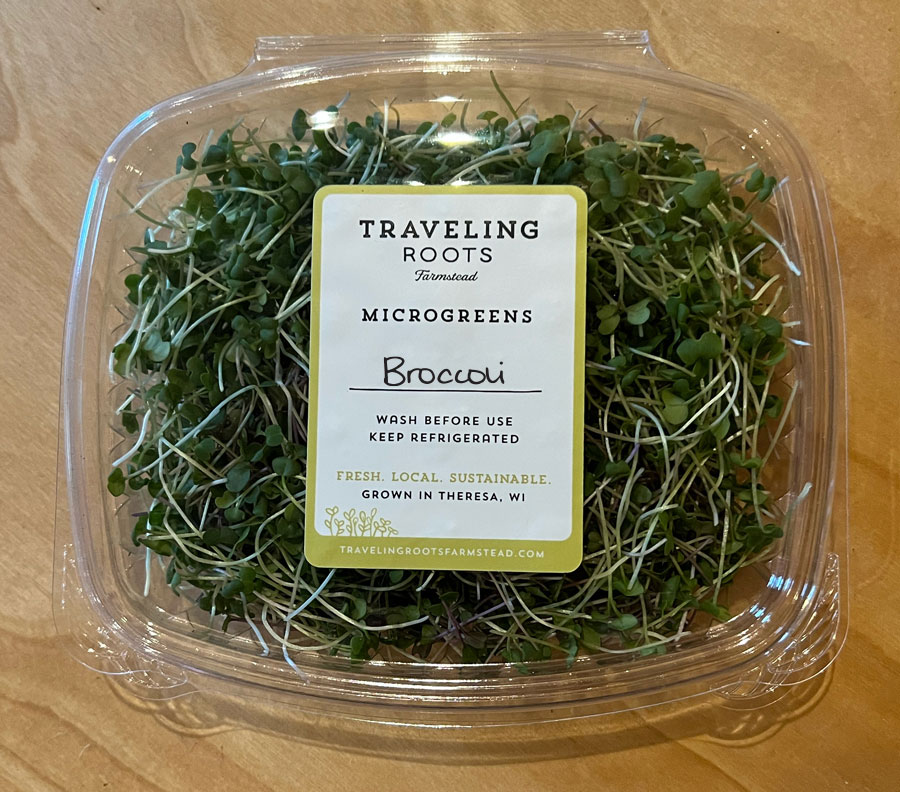 Broccoli
Broccoli has a mild broccoli flavor with deep green leaves. Broccoli microgreens are high in
sulforapane and packed with vitamin a, b, c, e, k and calcium, manesium, iron, copper and zink. 
*Broccoli microgreens are available to subscription and wholesale customers.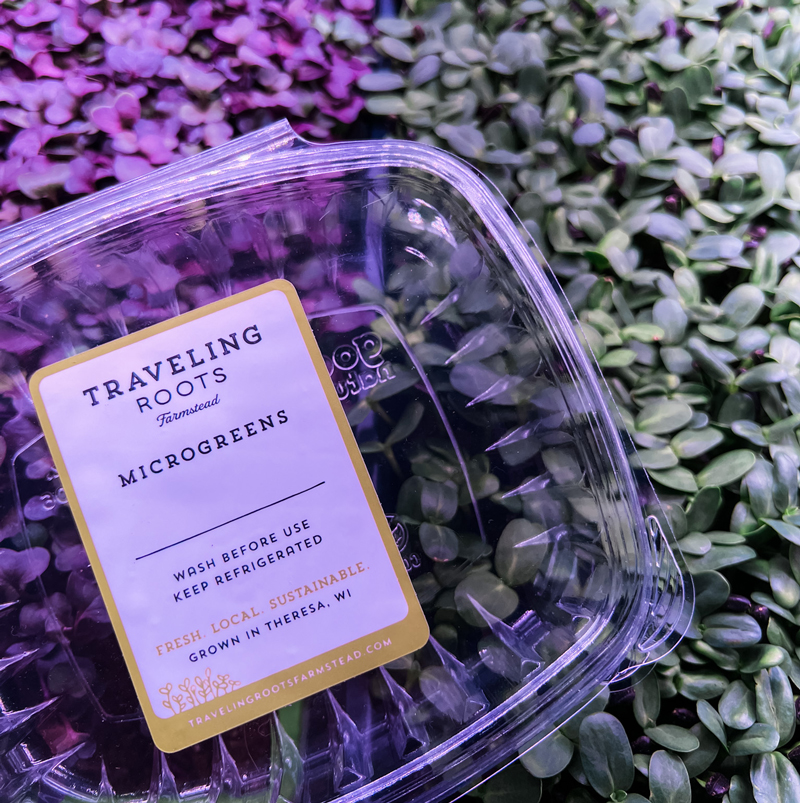 Farmer's Choice
Our Farmer's Choice blend is a little bit of everything that we grow at the farm. This blend changes weekly based on what we're growing. The blend will consist of but is not guaranteed, pea, sunnies, radish, kale, arugula, mustard, kohlrabi, broccoli, red cabbage, beets, cantaloupe, and many other varieties.
*Farmer's Choice microgreens are available to subscription and wholesale customers. 
Traveling Roots Farmstead microgreens are amazing! Seriously they are bursting with flavor and so much crunch!
Traveling Roots Microgreens are so flavorful, and my kiddo will even eat a microgreen salad with me! And he LOVES IT!
frequently asked questions
Q: What are microgreens?
A: Microgreens are the shoots of a plant harvested at the most nutritious stage of the plant life cycle before their true leaves emerge. Microgreens take about 7-14 days to grow and are packed with nutrition. Microgreens are best if eaten raw. They are often seen as garnishes but can be used for so much more. Try making a salad with them or adding them to sandwiches, wraps, soups, guacamole, pesto, and smoothies. Different varieties have different flavors, so get creative. 
Q: How quickly will I receive the microgreens after I order?
A: We are a grow-to-order farm. Meaning we don't start growing your greens until we receive your order. Greens are delivered and farm pickup every Monday. You'll receive your first order roughly two weeks after ordering. To ensure you get your greens weekly, we recommend signing up for a subscription plan, so you have fresh microgreens weekly or bi-weekly.
Q: How does a subscription work?
A: Once you place your order, we will contact you to let you know when your first delivery will be (roughly two weeks after the order is placed). Since the microgreens are grown specifically for you, with a 2-week notification, you can edit, pause or cancel your subscription. 
Q: Does Traveling Roots Farmstead offer microgreens for restaurant & wholesale?
A: Yes, whether you're a restaurant, caterer, CSA, Co-Op, or distributor, we offer favorable pricing on bulk orders. To get our current offerings and pricing, please get in touch with us at toddmarciaschabel@gmail.com.
Q: What zip codes do you deliver to?
A: We deliver to the following zip codes.
53002, 53006, 53032, 53035, 53048, 53050, 53091
If your zip code falls outside our delivery codes, we have a few options for you. See the question below "What if you don't deliver to my area?".
Q: What if you don't deliver to my area?
A: Have friends and family near you that also want to order microgreens? Gather $200 worth of microgreen orders, and we'll arrange a drop-off at your house for everyone's greens to be picked up. Having your home be a drop location gives you extra savings on your order.
Not interested in having your home be a drop location, we offer on-farm pickup. Pick up your order at our farm in Theresa on Monday evenings from 4-6 pm. If you select farm pick-up, we will send you the address to our farm prior to your first pickup.
Q: Do you offer refunds?
A: As a grow-to-order farm, we do not offer refunds. 
Q: How do I pause / cancel my subscription
A: You can pause your subscription for up to 4 weeks. Taking a vacation or needing a break from the microgreens, send us an email 14 days before you'd like the pause to take effect. 
Looking to cancel your grow-to-order subscription product? A cancellation request is due fourteen (14) days prior to the next payment due date.
Failure to cancel fourteen (14) days prior to your payment will result in one final payment. You will receive one final delivery or pickup of your subscription greens before cancellation takes effect. 
To pause or cancel your subscription, you must email toddmarciaschabel@gmail.com with email subject line "Microgreen Subscription [Pause/Cancellation]. "