F R E E    C O O K B O O K
unlock the power of microgreens with our free cookbook
16 Delicious and Nutritious Recipes Inside!
Inside our cookbook, you'll find a variety of delicious and easy-to-make recipes, all featuring different types of microgreens. From salads and smoothies to main courses and snacks, each recipe is designed to showcase the unique flavors and health benefits of these tiny but mighty greens.
Whether you're a seasoned chef or a beginner in the kitchen, this cookbook will inspire you to get creative with microgreens and discover new ways to boost your health and well-being. So why wait?
Download your free copy today and start cooking with microgreens!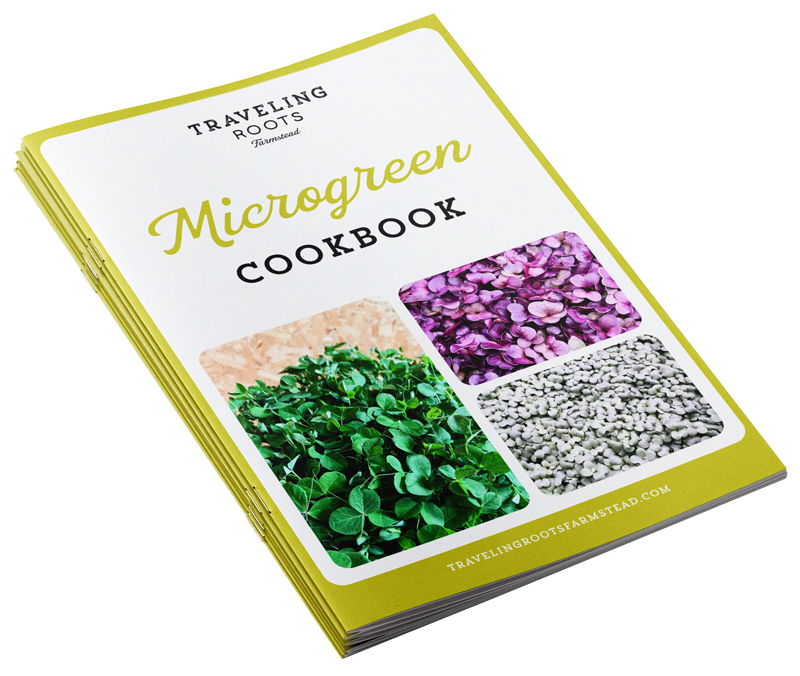 Despite their small size
microgreens pack a nutritional punch
Microgreens are up to 4 to 40 time more nutrient-dense than more mature vegetable greens.
Microgreens have many health benefits that can aid in…

  Lowering inflammation


  Supporting gut health


  Improving brain function


  Increasing vitamin intake

what are microgreens?
Microgreens are the shoots of a plant harvested at the most nutritious stage of the plant life cycle before their true leaves emerge. Microgreens take about 7-14 days to grow and are packed full of nutrition. Microgreens are best if eaten raw; they are often seen as garnishes but can be used for much more. Try making a salad with them or adding them to sandwiches, wraps, soups, guacamole, pesto, and smoothies. Different varieties have different flavors, so get creative.
Microgreens truly can be added to any meal…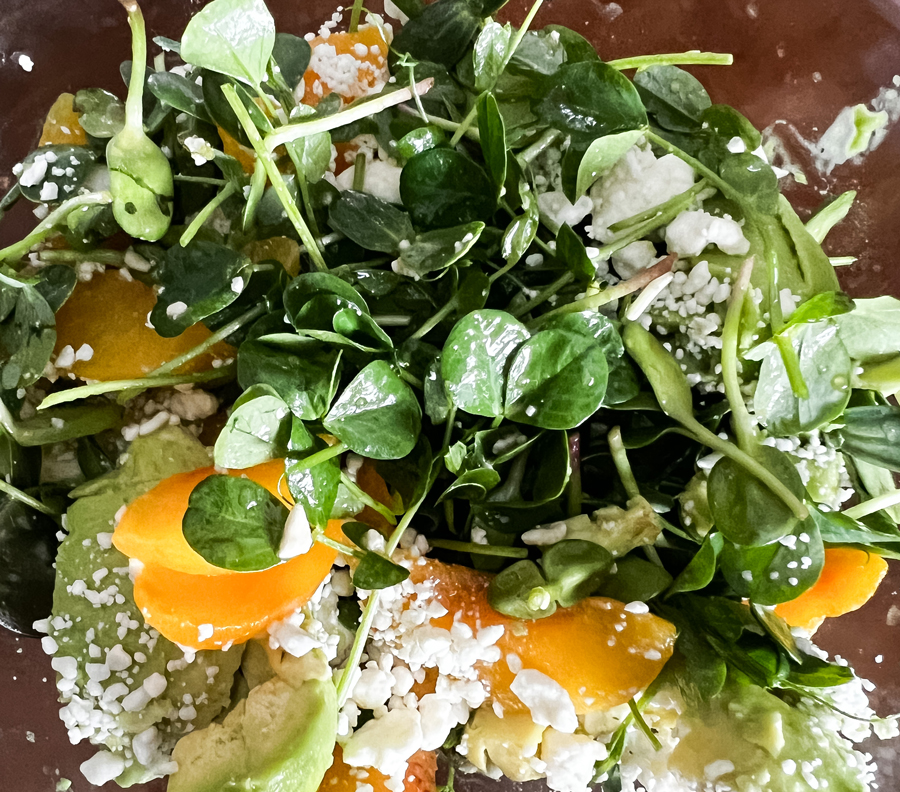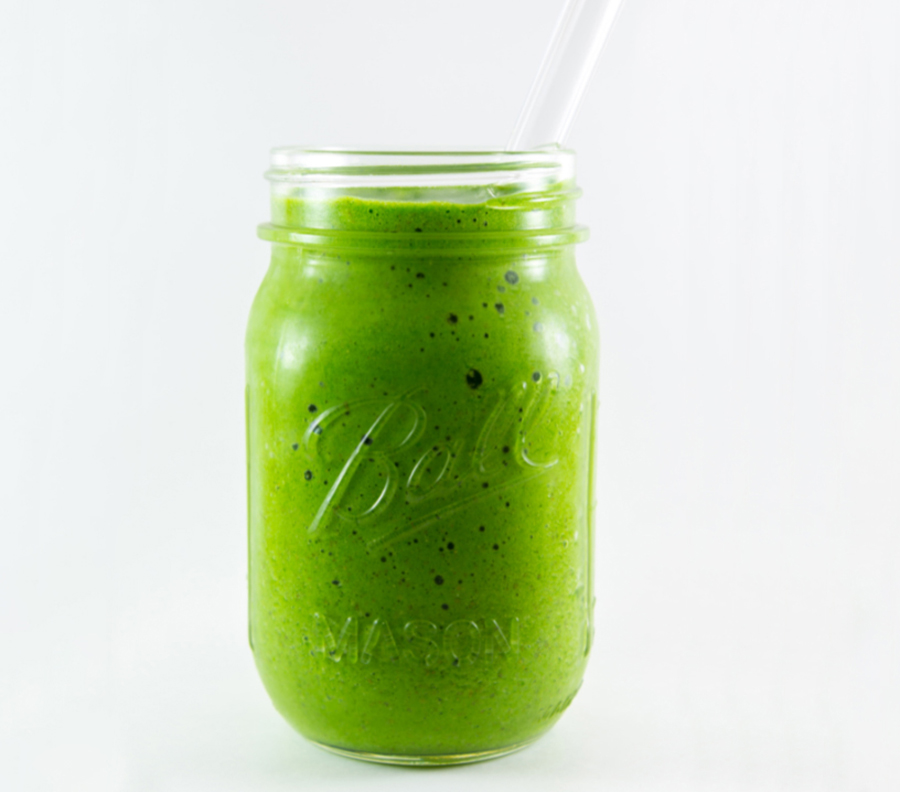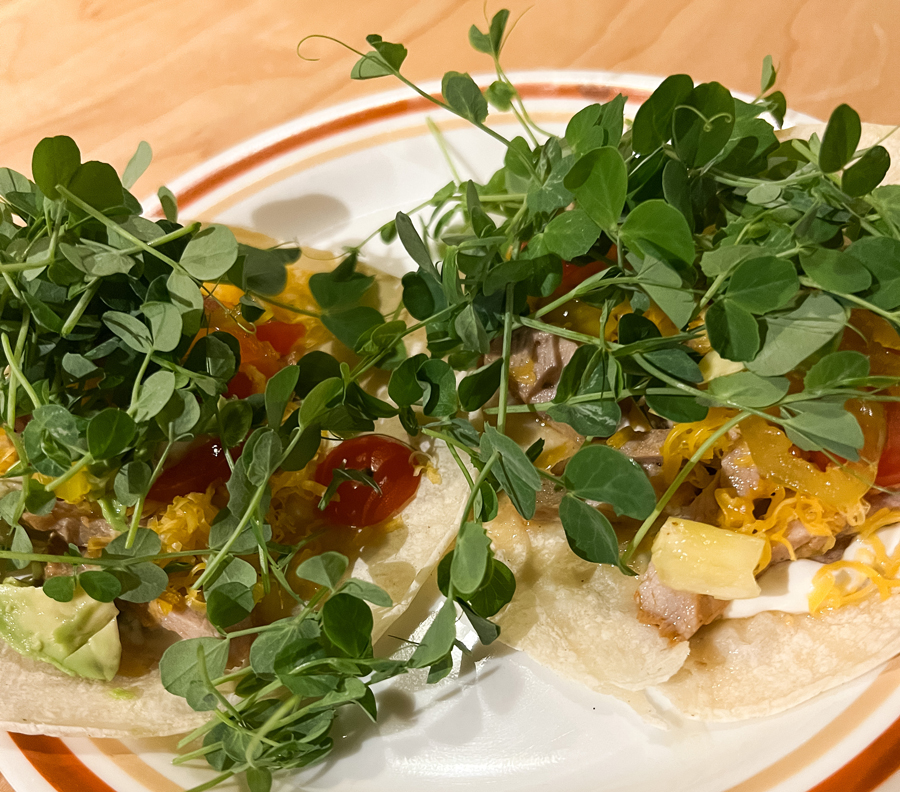 Are you a restaurant or wholesaler? We'd love to work with you to help provide your customers with fresh local microgreens! Contact us about wholesale pricing and availability. 
key benefits of microgreens
High nutrients
Despite their small size, microgreens pack a nutritional punch. Contains 4 to 40 times more nutrients by weight than their full-grown counterparts. 
Improves Health Risks
Adding microgreens to your life helps reduce health risks, such as weight, inflammation, heart disease, diabetes, and more.

Concentrated nutritional content
Depending on the microgreens type, they are packed with higher levels of iron, zinc, magnesium, vitamins, antioxidants, folate, and many more nutrients.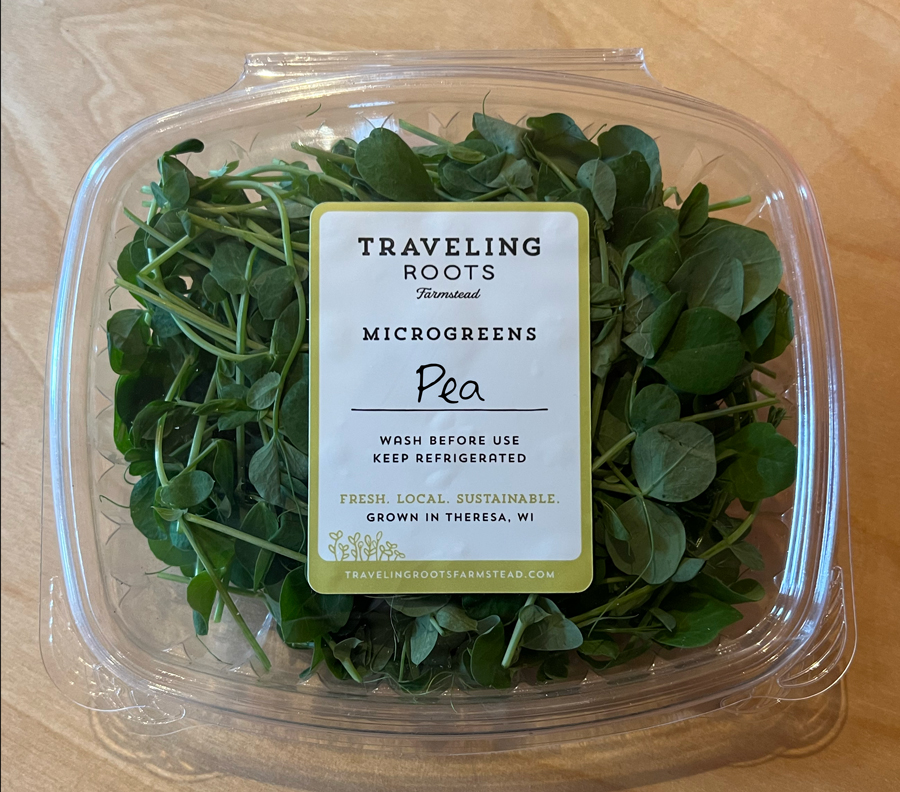 Pea 
These small tasty shoots have a crunchy and sweet green pea flavor. These are great to add to a salad, sandwich, stir-fries, soup, smoothies, or as a flavorful garnish to any dish. Peas are a good source of vitamin C and folic acid.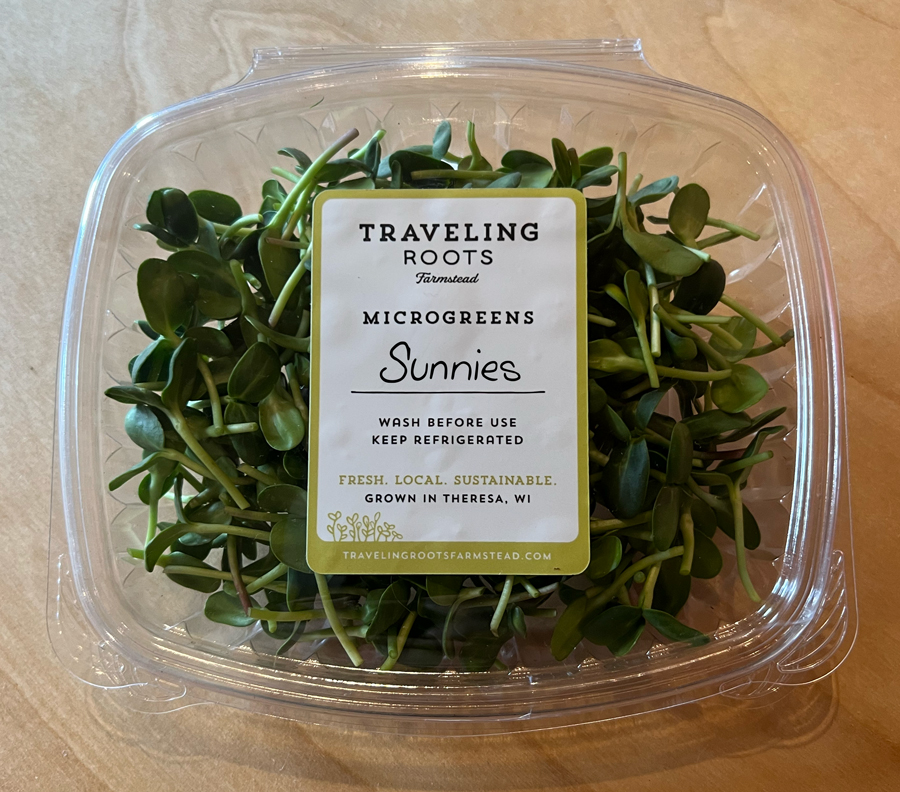 Sunnies
These have a crunchy, nutty flavor that is a tasty snack or can be added to a salad, sandwich, or smoothie. Remove the black hulls before eating. Sunnies are a good source of iron, vitamin e, potassium, and calcium.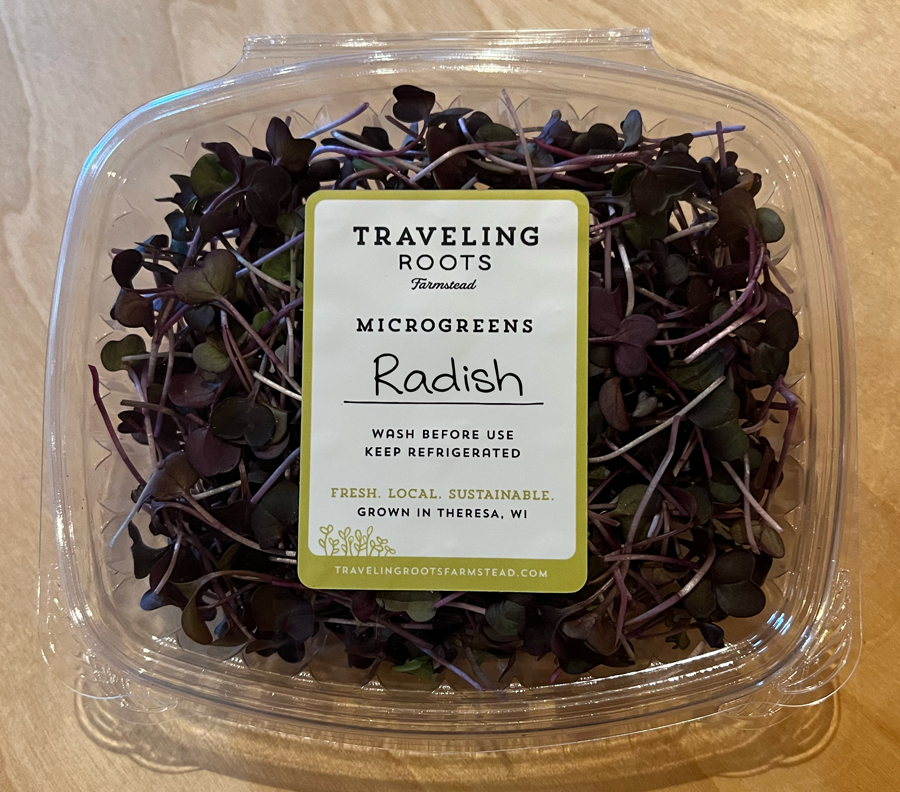 Radish
These have a spicy, floral, and sharp flavor that offers an amazing colorful highlight to any microgreen salad or dish. Use it instead of radish anywhere you would normally use radish. Radishes are a good source of vitamins a, b, c, e, k, calcium, iron, magnesium, potassium, zinc, and essential amino acids.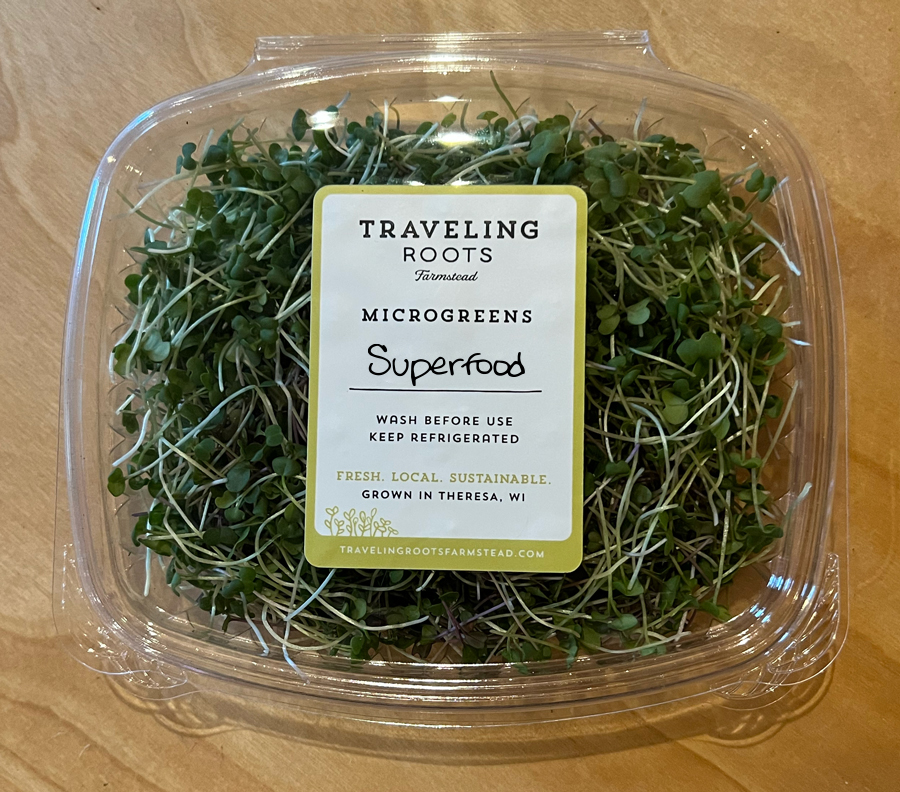 Superfood Blend
This mix is a flavorful and colorful combination, including broccoli, kale, kohlrabi, arugula, and red cabbage. This micro mix makes a delicious crunchy fresh microgreen salad full of flavor or toppings on a sandwich or burger. This green mix is packed with nutrients vitamins k, e, c, calcium, iron, and beta-carotene.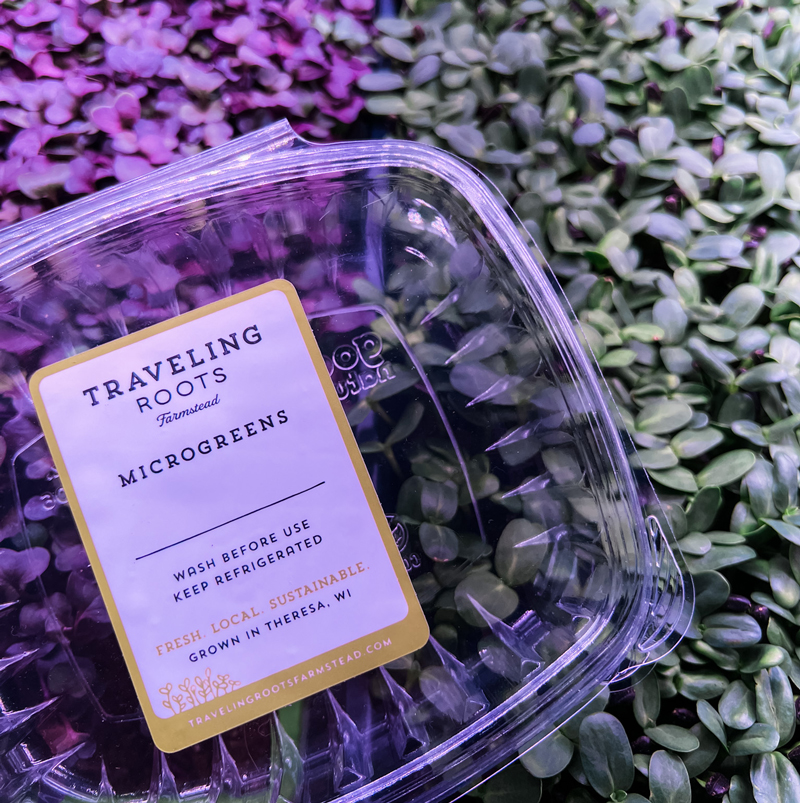 Farmer's Choice
Our Farmer's Choice blend is a little bit of everything that we grow at the farm. This blend changes weekly based on what we're growing. The blend will consist of but is not guaranteed, pea, sunnies, radish, kale, arugula, mustard, kohlrabi, broccoli, red cabbage, beets, cantaloupe, and many other varieties.
All microgreens come in 100% compostable, clear containers.